Hi mom, welcome to Cooktophia, now we will make Fried Chicken Sandwiches Recipe. Fried chicken thighs with killer milk! Very crunchy, very juicy. Served with sriracha mayonnaise, coleslaw and pickles!
Why Fried Chicken Sandwiches Recipe?
Smear the fried chicken with buttermilk, guys. The only sandwich recipe you'll ever need. With a double layer, these chicken thighs are fried to absolute golden brown perfection. So incredibly crunchy and juicy.
On top of it all, these bad boys are served on buttery brioche buns with sriracha mayonnaise (feel free to add a little or as much sriracha as bearing the heat allows you to do so), coleslaw (homemade or store-bought) good Just here) and all the dill pickle chips.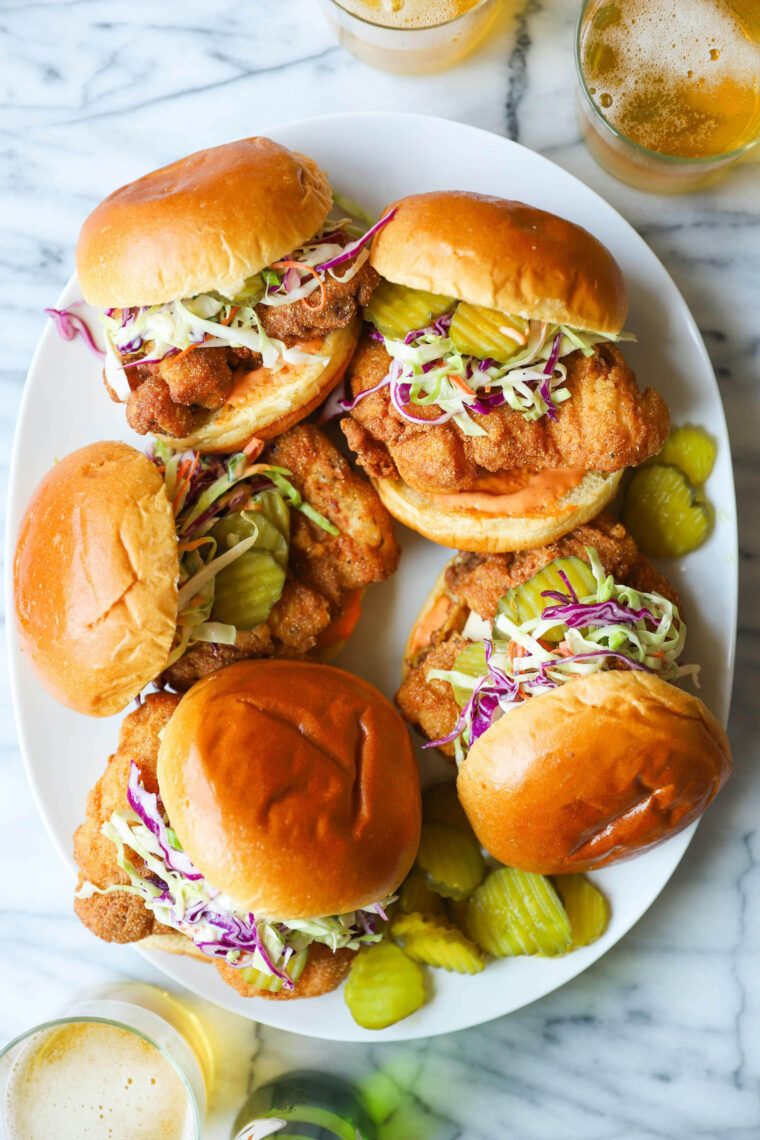 Fried Chicken Sandwiches Recipe
Ingredients:
1 1/4 cup milk
3/4 cup kosher pickle juice
1 tablespoon sriracha
6 boneless, skinless chicken thighs
1 cup all-purpose flour
3/4 cup yellow cornmeal
2 teaspoons baking powder
1 teaspoon cayenne pepper
Kosher salt and freshly ground black pepper, to taste
8 cups vegetable oil
To make sriracha mayonnaise
1/2 cup mayonnaise
2 tablespoons sriracha
to apply
6 brioche hamburger buns, lightly toasted
coleslaw
Dill pickled chips
Fried Chicken Sandwiches Recipe directions:
In a large bowl, whisk together curd, pickle juice, and sriracha.
In a gallon-size Ziploc bag or large bowl, combine chicken and buttermilk mixture. Soak for at least 4 hours, up to overnight, turning bag occasionally.
In a large bowl, whisk together flour, cornmeal, baking powder, cayenne pepper, 2 teaspoons salt, and 2 teaspoons pepper.
Working one at a time, remove the chicken from the buttermilk mixture and let the excess drip. Dip in flour mixture, then milk mixture and flour mixture again, pressing to coat.
Heat vegetable oil in a large saucepan or Dutch oven over medium-high heat until it registers 360 degrees Fahrenheit on a deep frying thermometer.
Working in batches, add chicken and saute until golden brown, stirring occasionally, about 4-5 minutes. Transfer it to a baking sheet fitted with a wire rack and warm it. *
In a small bowl, whisk together mayonnaise and sriracha.
To serve, brush bread with sriracha mayonnaise, then top with chicken, cabbage salad, and pickles.
Notes:
* Chicken can be kept warm as needed in the oven at 200°F.