Welcome to Cooktophia, did you want to make Dried Tomato Chicken Recipe. Tender Chicken Thighs In A Sizzling Creamy Dried Tomato Sauce. Very simple, very good.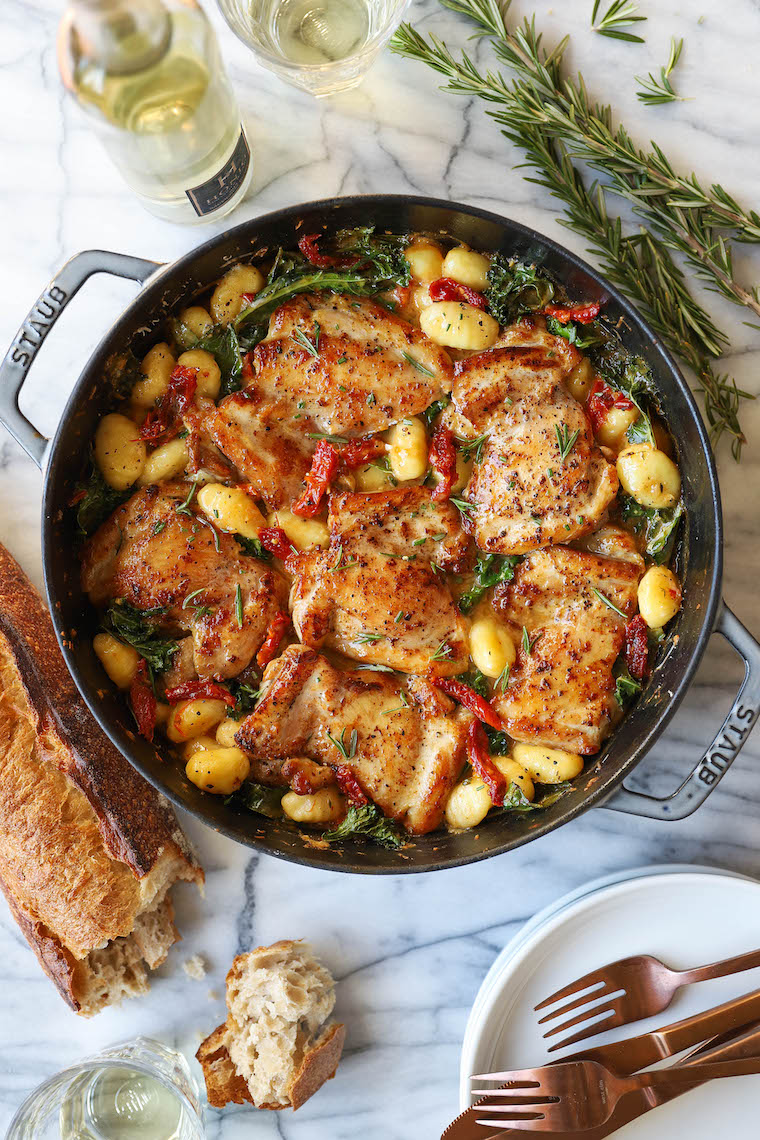 Kind of my comfort meal. Wine, soft-cushioned gnocchi, tender chicken thighs, and a light sundried tomato cream sauce, all topped with crunchy bread to soak up that goodness. What do you want more?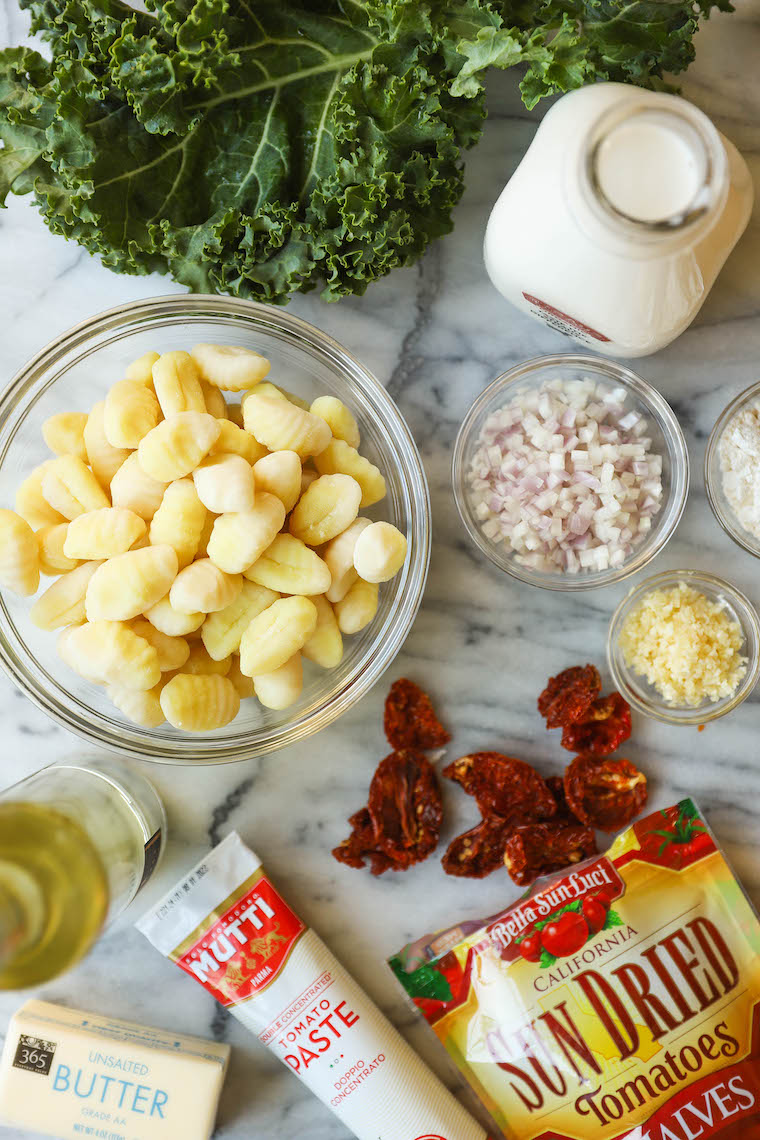 It's a luxurious meal without leaving your home. Yes, wearing sweatpants/leggings/yoga pants is a must for this meal. We want to be super comfortable while devouring this like nobody's business.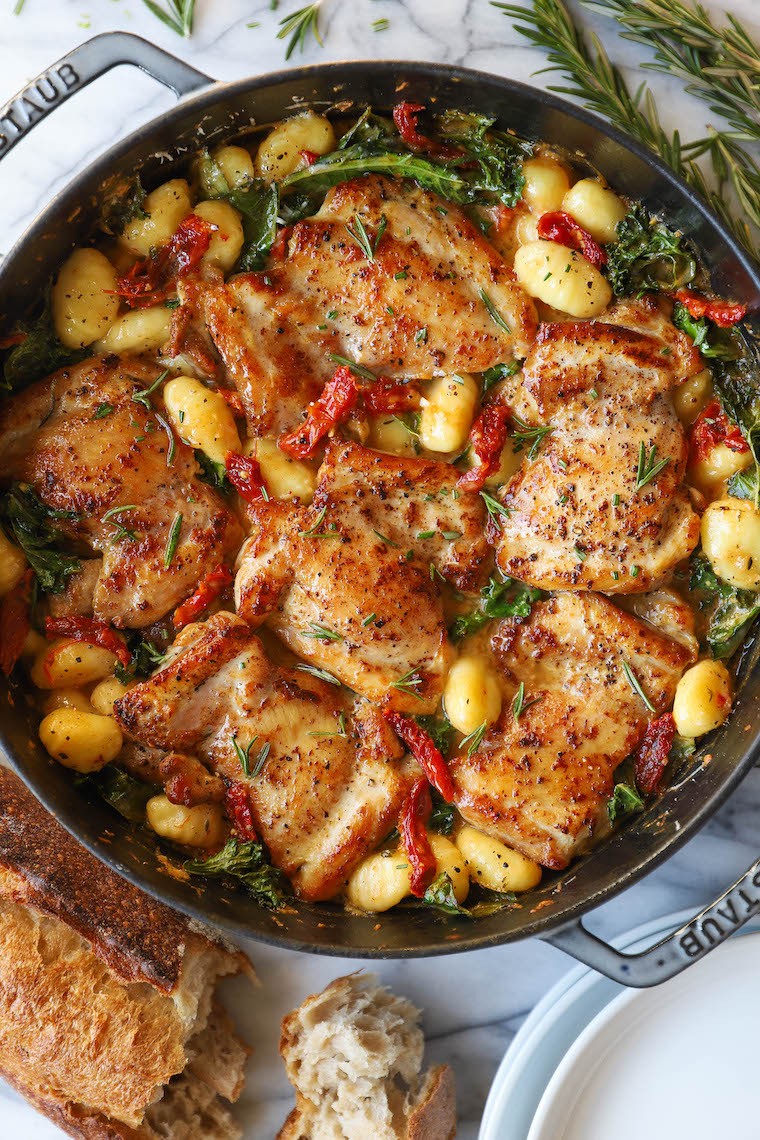 Now you guys know I love Whole Foods cauliflower gnocchi but you can either use any gnocchi of your choice or make it homemade. It's all good. There is only a win here.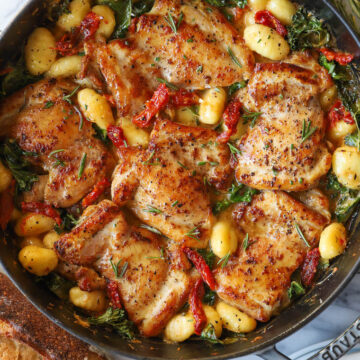 Dried Tomato Chicken Recipe and gnocchi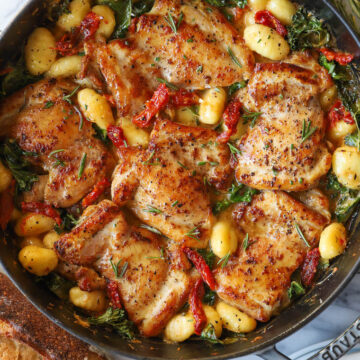 Dried Tomato Chicken Recipe
Ingredients:
1 (16-ounce) package cauliflower potato gnocchi
1 1/2 pound boneless, skinless chicken thighs
Kosher salt and freshly ground black pepper to taste
3 tablespoons unsalted butter, divided
1 medium sized piece cut into cubes
1/2 cup halved sun-dried tomatoes
1 tablespoon tomato paste
3 cloves of minced garlic
2 teaspoons chopped fresh thyme leaves
3 tablespoons all-purpose flour
1 3/4 cup chicken broth
1/4 cup dry white wine *
Half a cup and a half
A bunch of cabbage, removed from the stems and leaves torn into small pieces
1/2 cup freshly grated Parmesan cheese, about 2 ounces
Directions for Dried Tomato Chicken Recipe:
Preheat oven to 400 degrees Fahrenheit.
In a large saucepan of boiling salted water, cook the gnocchi according to the instructions on the package; Drain well.
Season chicken with 3/4 teaspoon salt and 1/2 teaspoon pepper.
Melt two tablespoons of butter in a large skillet over medium heat.
Working in batches, add the chicken to the skillet in one layer and cook until golden brown and cooked through, until the internal temperature reaches 165 ° F, which is about 4-5 minutes per side; Sit aside.
Melt the remaining 1 tablespoon of butter. Add shallots and cook, under constant stirring, for 3-5 minutes, until soft. Add the sun-dried tomatoes, tomato paste, garlic, and thyme until fragrant, 1 minute.
Beat in flour until light brown, about 1 minute.
Mix gradually in the chicken and wine broth, and cook, whisking constantly, until slightly thickened, about 3-5 minutes. Stir half and half until thickened, about 1-2 minutes; Add salt and pepper to taste.
Stir in gnocchi and turnips until soft, about 1-2 minutes. Return the chicken to the skillet. Sprinkle with Parmesan cheese.
Place in the oven and bake until bubbling, about 10-12 minutes.
Feet it right away.